While understandably concerned about a former police officer bent on revenge for action taken against him after reporting a fellow officer for kicking a mentally disabled man in a routine stop, the LAPD may not be demonstrating a culture that inspires public confidence as it conducts its manhunt.
Twice, LAPD officers have opened fire
on pickup trucks in the hope of stopping the attacks
promised by Christopher Dorner in his explanatory manifesto
.
The problem is, Dorner wasn't in either truck. Also, neither truck shot or struck was Dorner's – for the owners, lousy luck. On February 7,
officials asked people to look for a gray Nissan Titan
: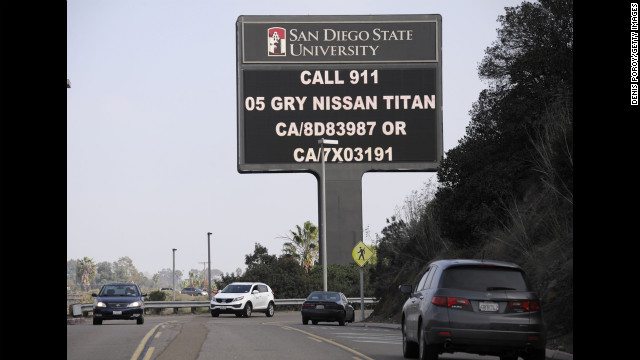 Also on February 7, the
LAPD shot a mother and daughter delivering papers
. Their blue Tacoma is pictured, riddled with bullet holes:
Also on February 7, moments after David Purdue pulled over in response to police and answered questions about his identity and destination,
police shot and rammed his vehicle
. Purdue and his wife were both injured in the collision, though not hit by gunfire, on their way home from a quick surf. Police claimed Purdue and his vehicle matched Dorner's description, but Purdue – who is white and of thin build, check the link yourself to see his picture – looks nothing at all like
the 270-pound African-American former Navy officer Dorner
. Moreover, Purdue's pickup was a completely different make and model than that sought in the Dorner manhunt. The police responsible for the ramming attack and gunfire apparently became on-edge while guarding an individual named in Dorner's manifesto, who happened to live near Purdue's route home from the beach.
LAPD is re-opening Dorner's grievance
with the LAPD in the hope of quelling public concern that Dorner's accusations about the department's behavior and culture that he says drove him to violence by its retaliatory termination of his law-enforcement employment.
It's obvious that Dorner must be tried for his violent and fatal attacks. It's also clear from his victim selection that his homicidal campaign is unlikely to generate public support even from those inclined to suspect government officers of misdealing, corruption, and oppression:
two of the dead include
a college basketball coach who was the daughter of the officer representing Dorner in his dismissal hearing, and that woman's fiancé, a security officer. Neither had any involvement in Dorner's complaints or any power to have stopped the events about which he complains. As a consequence, Dorner's claim to be at war with crooked police runs afoul of the stark facts surrounding his decisions whom to shoot. But the hypocrisy may not be entirely one-sided: one may reasonably wonder whether the LAPD's press statements about its desire to project transparency may be overshadowed by
actions that speak louder about its regard for citizens
who expect it to place a high value on their interests – their safety and property – rather than trusting that a culture of protecting its own will keep overly-aggressive officers out of trouble if they should destroy the property or lives of innocent people.
For a look at the folks hunting Dorner, check out your local bookstore: the LAPD figures prominently in highly-available fiction and nonfiction titles. Soon, they'll be joined by titles featuring Dorner.
UPDATE: Dorner's pickup truck was found, burned out and abandoned, on February 7. Police collected it as evidence. The shootings of the other trucks also occurred February 7, and may have been related to Dorner's decision to torch his own, similar vehicle.
CNN reports interviews
with a past and current Times reporter covering the LAPD. Jim Newton, who covered the LAPD following the Rodney King beating and during the O.J. Simpson trial says the LAPD has changed and that Dormer's manifesto "doesn't reflect any larger cultural truth about LAPD." Andres Blankstein, currently covering LAPD for the paper, acknowledges that "anybody with grievances has a long, well-publicized history of the LAPD to pick at" but concludes that Dorner's methods will alienate anyone otherwise sympathetic to his plight. "In the end, he is probably just creating more sympathy and support for the people he loathes." Sounds about right.
UP-UPDATE:
Anderson Cooper has a video
that depicts Dorner on videotape during what appear to be LAPD training exercises. In it, Cooper discusses Dorner's claims against the LAPD and describes the LAPD's investigation and termination hearing.